Emigrants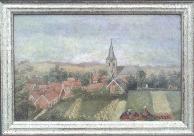 It was around the year 1880 when Sophie van Nes-Wedekind painted this view of Uelsen (see also 'Alte Ansicht 17' (old view no. 17). At that time the wave of emigration towards the new world was in full swing. The first and foremost destination of the emigrants were the United States. Middle America and South America were other destinations. Many inhabitants of the Grafschaft (County of Bentheim) as well "yearningly let their minds wander towards faraway lands where milk and honey are said to flow", reported the Bentheim newspaper in 1882. Economical and religious reasons were responsible for giving up the local properties in hope for a fresh and auspicious start overseas. On Feb 4, 1882, the Bentheim newspaper reported: "This morning about 20 families from Nordhorn and surroundings have left for America via Holland". Possibly Berend Ottink from Uelsen belonged to this group. He emigrated in 1882 with his familiy to Michigan (USA).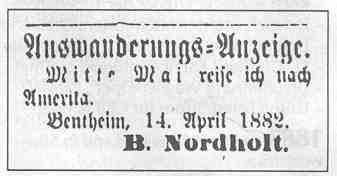 The wave of emigration from the local region has been substantially initiated through a pamphlet written by the dutch Reverend Albertus Christian van Raalte. This pamphlet, dated May 25, 1846, encouraged emigration and the separation of church and state. Together with the first emigrants, van Raalte founded the Dutch colonie Black Lake, which became the city of Holland (www.ci.holland.mi.us) later. Many Dutch and Grafschafter (people from the county of Bentheim) followed him to Michigan. The first Grafschafter settled down south of Holland and founded the places Graafschap and Bentheim.
Graafschap, Allegan County, Michigan, USA: 42°45'15" North, 86°8'11" West.
Bentheim, Allegan County, Michigan, USA: 42°42'34" North, 85°55'8" West.
The city of Holland celebrated its 150th birthday in 1997. The inscription "God zy met ons" in the city seal still reminds of the Dutch ancestors. So does the coat of arms, it shows a windmill named "De Zwaan" (The Swan).

Related Sites


What has the town-hall at Harlem to do with Uelsen?
A man from Uelsen helped building the town-hall at Harlem (New York) in the year 1680!
Adolph Meyer, a farmer from Uelsen was born around 1646 and emigrated to New-Netherland (now New York) in 1661. There he married Maria Verveelen from Amsterdam. His marriage record calls him "from Ulsen in Westphalen". Adolph Meyer was a lay assessor (dutch: schepen) in 1674-76, a corporal of the first Night Watch in 1675-76, an inspector of chimneys from 1684, a constable in 1689, and an assistant alderman in 1693-94. He was also one of three overseers (what exactly used an 'overseer' to be at that time?) and a church elder. In 1680 he helped to build the town-house (which we think must have been something like a town-hall, not a town-house in the modern sense), and to cut the stone for the church in 1696. His day of death is not known exactly, but it is known that his last will is dated Feb. 1711. Are the buildings still up?
More informationen can be found in the document: http://cybrary.uwinnipeg.ca/people/Dobson/genealogy/ff/Comfort-AT-1.html. Proceed to the entries 90 and 91.

Wanted: Jacobs, Timmer, Arens, Arends, Veldhuis.
Nelson Jacobs from the USA is a descentant of Jan Hendrick Jacobs (born 1867 at Uelsen). He is looking for information or contacts regarding the families named above. This is an excerpt of his mail:
I was born in Holland, Michigan in 1932 and was raised on a combination of Dutch, Fries, and English.
...
My father, Herman (Hermannus) Jacobs was descended from the ethnically-Dutch "Graafschapers" of the Nederduits Gereformeerde Kerk in Grafschaft, Bentheim, Germany, many of whom joined Albertus Van Raalte in the founding of Holland, Michigan in 1846. Apparently, these folks moved back and forth across the border as my grandfather, Jan Hendrick Jacobs, was born in Uelsen, Bentheim in 1867 but his father, Hendrick J. Jacobs was born "in the Netherlands" in 1843.
If anyone has information or can provide contacts to further my research into the Jacobs, Timmer, Arens, Arends, and Veldhuis lineage of the Graafschapers, please contact me.

My email address is NelsJacobs@aol.com.

My mailing address is:
Nelson Jacobs
1081 South Cody Street
Lakewood, CO 80226
USA

The complete mail can be read here. It originated from this discussion group: www.drf.nl/freescap/gast1996.htm.
The background image shows advertisements for the passage to the US. They were placed in the Bentheimer Zeitung in 1882. Have a closer look at the advertisements here (87K): Background Image.
---
Sources:
Newspaper article by Steffen Burkert, included in the special edition of the GN "125 Jahre Zeitung in der Grafschaft Bentheim" from Nov 6, 1999 (Page 20).
The internet links listed in this page.
Remark (Sep 17th, 2005): The internet page www.roots-in-germany.de (in English Language) offers an extensive link collection regarding the topic 'German emigration to America'. The page predominantly addresses readers from overseas (e.g. descendants or researchers). The overall motto is: routes to the roots.